Spindrift August 11, 2022
LIVE MEETING
Ken DuFour opened, Roger Summers gave the invocation, and Al Wach led the pledge.
Mike Gertner recognized Ross Stewart as Member of the Year. Ross expressed thanks and is excited to display his plaque on his wall. Ken shared thank you notes from Carol Crane, a Newport Mesa Unified Board Member, for our club's "longstanding and impactful support of students," and Katrina Foley, OC Supervisor, for its "participation in the Flag Day Celebration at the Old Santa Ana Courthouse."
PROGRAM
George Lesley introduced Laird Hayes who was raised in Santa Barbara and has resided in Newport Beach since 1976. He attended Princeton where he played football and baseball, and earned his Doctorate in Higher Education from UCLA. Laird had a lengthy career at Orange Coast College as Dean of Student Affairs, Professor of Kinesi- ology and Athletics, and Coach of the Surfing and Soccer teams. He has dedicated even more years to officiating football, beginning in high school and continuing with 12 seasons for the PAC 10 and 23 seasons for the NFL where as Side Judge he made "the best call in Super Bowl history." Since 2021 he has worked for the Southeastern Conference. He is active in Newport including as Commissioner on the Parks, Beaches, and Recreation (PBR) Commission and Volunteer in Policing. Laird has worn many hats (and rings), too many to list or discuss in 20 minutes. He shared some life highlights and memorabilia.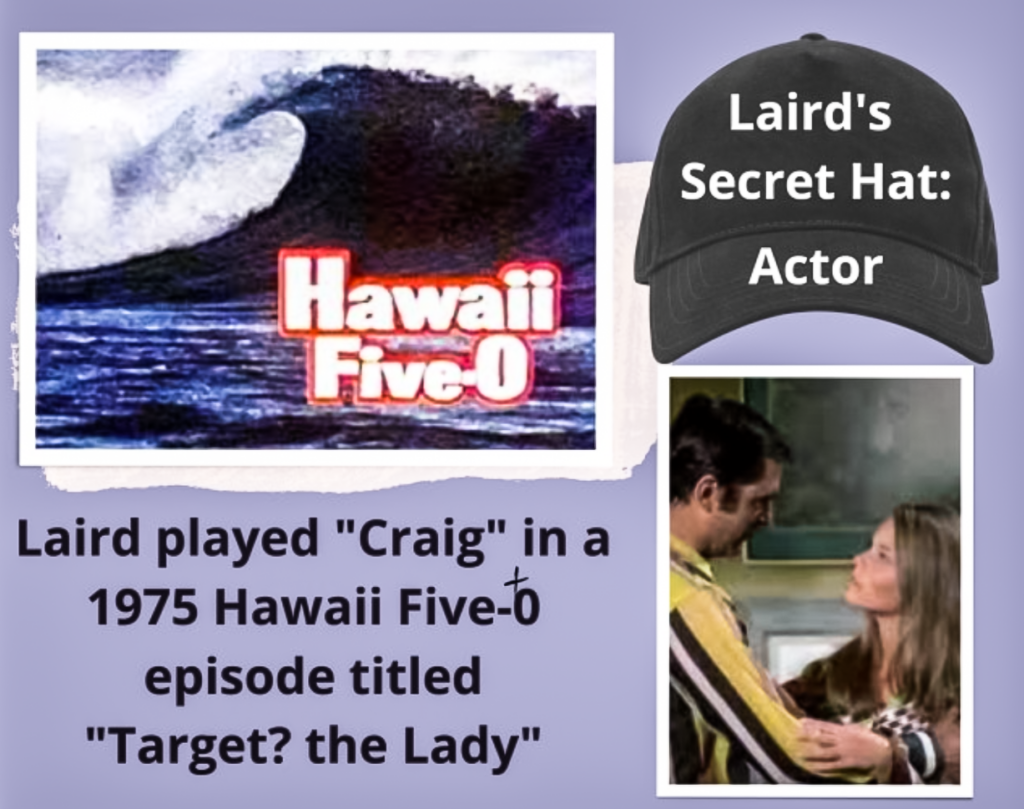 Laird felt at home with our gentlemen who like him donned Reyn Spooner shirts and his fellow PBR Commissioner, Diane Daruty. He first tackled the story of his legendary Super Bowl call. Each call in every college and NFL game is evaluated, and the evaluations are used to rank the officials in each category (e.g., Side Judge). At the end of the season, top ranking officials are invited to officiate post season games. Also, each first place official in each category officiates the Super Bowl unless he worked the previous Super Bowl as no one may officiate two years in a row. Laird was number one Side Judge many times and officiated many post season games including Super Bowl 2002, 2004, and 2012.
Laird's MVP performance was during the 2012 Giants vs Patriots Super Bowl. With three minutes remaining in the fourth quarter, the Giants, down by 2, had the ball. Their quarterback completed a 38 yard pass down the sideline, and as the receiver came down with the ball, he was forced out of bounds. On football's biggest stage, before one of the largest television audiences in history, and with his wife, son, and daughter in the stadium, Laird had 1/26 of a second to rule whether the receiver kept both feet in bounds while maintaining possession. Laird nailed the biggest call of his career and one of the toughest in Super Bowl history!
Jerry Markbreit, an esteemed NFL referee, called Laird to congratulate him. He said Laird was lucky in one respect but not in another. It was luck that put his call at the best point in the game. Had Laird made the call in any other quarter, no one would have cared or remembered it. But it wasn't luck, but rather years of hard work and experience, that prepared him to make the right call.
Laird reflected how the circumstances of his call are a metaphor for life you must be ready to make the right "call" when the opportunity arises. He also recognized he could have made the wrong call. Indeed, the following season, because he's human, and perhaps was a bit "cocky" from his Super Bowl success, he made an embarrassingly poor call. Fortunately, his mistake didn't hurt any team but it did result in a bad grade for him.
Laird still has his fingers in the game as a Film Grader for the Southeastern Conference. Now he's the person evaluating every call. He also scouts for college game officials.
Laird addressed his work with Newport Police. After passing a rigorous background check, he was admitted into the Citizens Police Academy which he thoroughly enjoyed. His enthusiasm inspired his wife to apply, although she had a secret agenda of wanting to patrol with him. They were accepted as Volunteers in Policing.
This summer, they have been directing Junior Guards (JGs) traveling from Balboa Island onto the ferry. When they began, Laird witnessed too many parents dropping JGs on Agate, the street nearest the ferry. Also, kids on bikes, electric bikes, scooters, etc. were barreling down sidewalks and streets often oblivious to pedestrians. Laird persuaded most parents to drop kids away from Agate. He also taught kids to be alert for pedestrians and the concept of the right-of-way. Laird and his wife also patrol in a volunteer police vehicle. Sometimes they distribute "crime alerts," print materials covering topics such as preventing burglaries, bike theft, and breakins during construction. They also perform vacation checks. These checks can be a fun way to check out other people's décor. They can also be frightening when Laird opens what should have been a locked door. Fortunately, the doors are usually not unlocked by criminals, but rather relatives after a house check. Laird distributed "future officer" badges for our grandchildren and left some "crime alerts" and other information.
In his early years at OCC, Laird started a surf team. The experience prompted him to offer a surfing course which he continues to teach today. It attracts 30-40 students per session, and he is assisted by former students and other adult surfers. Laird teaches more than surfing. He offered a few examples. He requires beach cleanup, explaining the dangers of trash, for instance, birds mistaking plastic for food. He brings the class on field trips, including to San Onofre, and hosts a luau. He has students write letters of gratitude to someone who helped them but they never thanked. A few letters have shocked Laird, including one by a female who thanked her convict uncle for saving her from a dangerous encounter. They have also made him appreciate the extensive thank you note writing his parents required. At least he learned where to buy a stamp and place it on the envelope.

Laird pulled the winning raffle tickets. Gina Lesley and Jerry Nininger each won $32.
DATE/SPEAKER/SUBJECT
August 11  -  Lauren Kleiman, Candidate for Newport
Beach Council District District 6
August 18  -  Business Meeting
August 25  -  Judi Aprile Physical Therapist
Sept 1   -   Jeff Bott, Toll Road
Sept 8   -  Tom Johnson, Editor StuNewsNewport.com
Sept 15   -  Business Meeting
Sept 22   -   Erik Weigand, Candidate for Newport Beach Council District 3
This week we will be at the Bahia Corinthian Yacht Club. Lunch will be served at 12:20 pm. You will be emailed an invitation two days before the meeting. Please notify Richard Swinney by this Wed 2 PM if you are planning on attending.