Spindrift August 26, 2021
LIVE MEETING
Ken Dufour led the meeting, filling in for Mike Gertner who is sick with Covid. George Lesley prayed for those being brutalized in Afghanistan, Haitians suffering from the tropical storm, and Mike's recovery. After a brief quiz about when California joined the union, Dave Schapiro led the pledge.
Ken encouraged members to attend the district convention to support Shirley Lashmett, District President, and a member who will receive an award. Our club will subsidize $75 of your $125 convention fee, and a $50 dinner fee if you attend with your spouse.
PROGRAM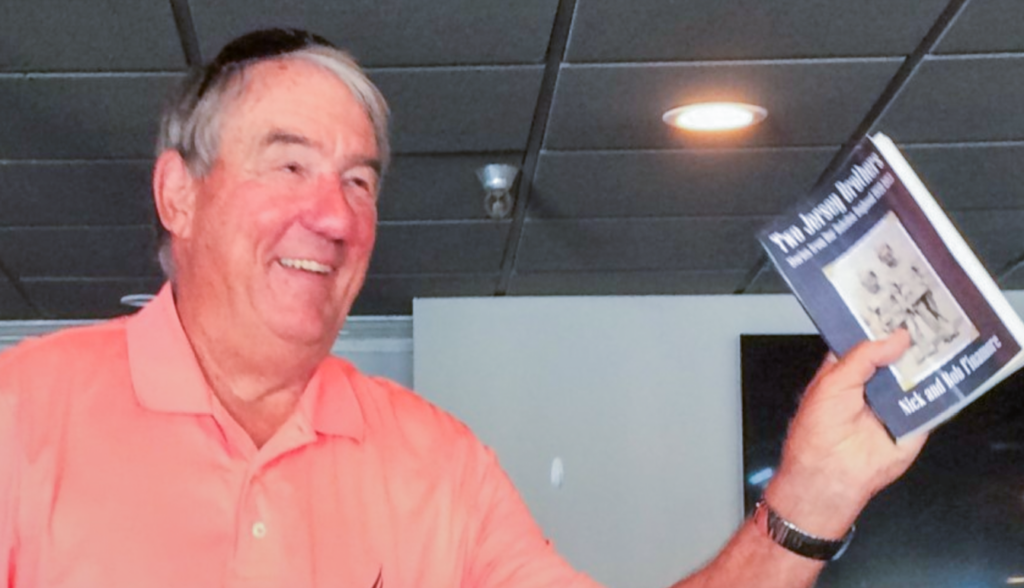 Leo Fracalosy has lived a colorful and accomplished life, making it difficult for him to choose what to share with us. He focused on memorable relationships (several which are documented in a novel Two Jersey Boys authored by his childhood friends Bob and Nick Finamore, and items from his "nostalgia folder" where he preserves cherished life memories.)
Leo grew up in Patterson, New Jersey, an industrial city. Although his neighborhood was rough, there's no other place Leo would have preferred to have grown up. Leo lived in a one- bedroom home with his mother and younger brother and slept on the couch. In Leo's neighborhood, kids played stickball all day long, every day. They chose teams in a school yard pick, created the rules, and negotiated disputes. Because his mother's work prevented her from being home at lunch, each day Leo and his brother ate lunch with a different neighborhood mother. Leo was fond of Rose who was proud to declare herself his second mother.
Ph: 949-548-2878 Vol. 71, No. 6.
Leo has always been industrious. In seventh grade, a stranger approached him and his best friend, Warren, to offer them a paper route, although the boys had to recruit the customers. Leo committed to enroll a new family each evening. Leo enlisted help from his brother who was generally agreeable with the exception of cold, rainy evenings. Leo taught him that cold and rainy conditions were best for soliciting, instructing him to tell whoever opened the door, "I'm sick and cold and want to go home." Most took mercy on his brother and were an easy sale. Leo built his route to 60 customers. Leo had other, less alluring jobs. He worked for Harry, a plumber who lived across the street. One plumbing customer was an old restaurant, and Leo's job was to squeeze into the crawl space to dig out room for Harry to reach the pipes. Leo struggled through dirt, over rats, in 100 degrees, for $1 per hour.
Leo's family later moved to the upstairs of a funeral home where his mother cleaned. One evening the morgue didn't have anyone to pick up a corpse so they asked Leo to do it. Leo's mom encouraged him because he could make $5 per body. One time, Leo went to pick up a corpse and found two. He placed one on the gurney and the other in the front seat.
Leo's work ethic applied equally to sports. His mother convinced Mr. Kemper, the mailman and little league coach, to put Leo on the team a year early. Leo was thrilled and wore his baseball hat everywhere, even to bed. He was extremely competitive, pitching and winning every game, except one. After the loss, he threw off his shirt, hat, and glove and vowed to never play again. A week later, realizing he still wanted to play, he returned to the field. Mr. Kemper immediately returned his gear and instructed "Get out there and pitch!" This made a big impression on Leo.
By high school, Leo figured he was a pretty good player and smart enough to know who he could beat. At tryouts, the coach instructed everyone to line up in their positions. Leo thought he could easily beat Joe Gallow, a center fielder, and lined up behind him. Unfortunately, several others had the same idea and Leo was no longer certain he'd make the team. That evening he complained to his mother "Life's not fair and I'm quitting!" His mother replied, "Where are you going to live? Your couch is no longer available because quitters don't live here." Before long, Leo was second or third leading hitter in the county. Leo's mother's words and his experience on the team influenced Leo more than any of his college degrees. He learned to never quit, never give up, and the turtle can win the race.
Leo's neighborhood friends included some interesting characters, including Sweet Pea Parker. Sweet Pea was a genius in some ways, but an idiot in others. He was proud of his car and worked on repairing it for months and was excited to take Leo and other friends for a spin afterwards. However, when he put it in drive it wouldn't move forward, only backwards. This didn't deter Sweet Pea, he drove backwards all the way to his girlfriend's house, evening passing another car.
After high school, while most guys entered the trades, Leo was determined to attend college. Leo applied to one college, submitting a handwritten essay and a picture taken at the local drug store. Luckily, Leo obtained a reference from Dr. James Gallow, a well-respected doctor for whom Leo had worked since seventh grade. The recommendation was brief, "Leo is a hard worker," but Leo was accepted to college.
Leo's college grades weren't exceptional, mostly Cs and at least one D (with straight A's in physical education, of course). Consequently, Leo was monitored regularly by the Dean. The Dean encouraged Leo to spend time with his son who was a bit of a troublemaker. Leo developed a good relationship with the younger boy who spoke very highly of Leo. The Dean recognized Leo's unique talent with young people and encouraged him to become a teacher. Before moving to California, Leo taught a year in New Jersey.
Leo worked 24 years as a teacher and tennis coach at Villa Park High school. Although he took up tennis later in life, he became pretty good. On his first day as coach, Leo challenged the best player to a match, figuring he'd win and earn instant credibility. Unfortunately, the kid destroyed Leo, beating him 6-1.
Leo shared stories about a couple memorable students. As a sophomore on the basketball team, Jimmy Mitchell was an incredible talent, he could even touch the rim. However, as time passed his performance declined and no one could figure out why. Leo eventually learned Jimmy was going blind and hiding it from everyone. At the next track season, Jimmy competed in the long jump. Although a great jumper, he defaulted his first two jumps because he couldn't see the start line. Leo came to his rescue, stood next to the start line, and told Jimmy to jump when he was next to Leo. Jimmy jumped 23 feet, 1 ⁄ 2 inch which was the best mark in CIF at the time and led the team to victory for the meet. Years later, Leo saw Jimmy and learned that Leo had inspired Jimmy to become a teacher at West Point.
Leo was also proud of Jack Bassett, a student who so smart that he insisted on retaking the SATs when didn't score 100%. When he passed out the results of the first test, most students spent the entire class bickering over the answers to the first three questions. Later that day, Leo found a note on his desk from Jack. Jack's message was clear  "Most kids in this class take it for the extra point and care more about getting the right grade than the right answer. It's a welcome change that you are giving us the grade we deserve instead of what we want." Leo carried that note in his pocket for a long time until he retired it to the "nostalgia folder."
After 24 years at Villa Park, Leo's wife Carol convinced him to take a leave of absence to help her build her physical therapy business. Leo never returned and instead focused on growing the business which now has multiple locations and involves his adult children.
Leo appreciates that he has led a very blessed life. While he didn't have a lot of money, he had a healthy mind and body, and grew up in the greatest country in the world where with hard work and the strength to stumble through challenges, you can achieve anything.
See attachment to this email to read Diane Daruty's unabridged version of Leo's speech.
Editor Bob Wood
DATE / SPEAKER / SUBJECT
Aug 26  -  
Leif Welhaven, National VP, Region 2 "The Importance of Leaving a Legacy"
Sep 2  -  
Helen Cameron, Community Outreach
Sep 9  -  
Probably Board meeting after the Regular meeting, topic TBD


Luncheon meetings at the Bahia Corinthian Yacht Club have resumed, with indoor seating in one of the banquet rooms. Lunch will be served at 12:20 pm. You will be emailed an invitation two days before the meeting. Please

notify Richard Swinney by this Wed 2 PM

if you are planning on attending.