LIVE MEETING
Gina Lesley opened, Fran Murphy read Pope Francis' prayer, and Leo Fracolosy led the Pledge.
Dr. Bob Wood reported Marj Davis won $300 in the Super Bowl pool.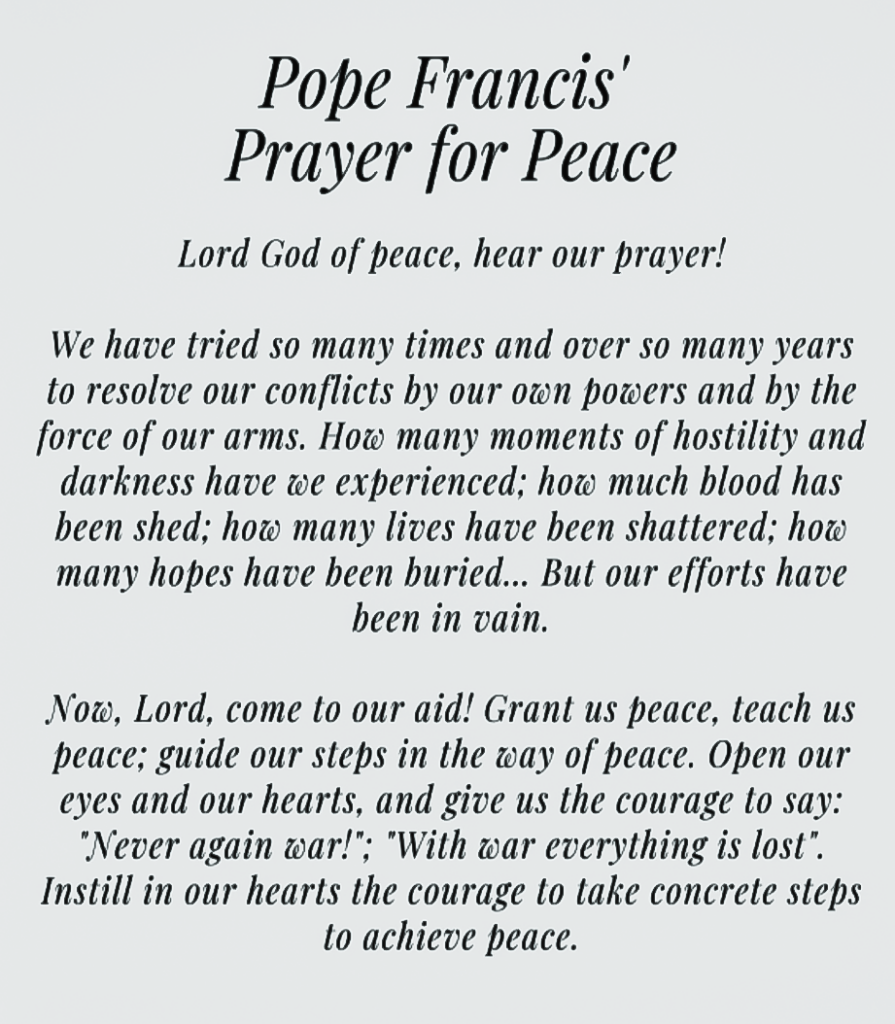 Cynthia Strasmann invited everyone to accompany her to Newport Coast Elementary to present a certificate and computer
tablet to the Youth Citizenship essay contest winner.
Wally Ziglar presented a quiz about President Washington's birthday and Zimbabwe currency. Roger Summers introduced his guest, Trent Ulyssen.
PROGRAM
Diane Daruty introduced Julie Swail Ertel, a two time Olympian. Julie graduated UC San Diego in 1995 with a major in Economics. She obtained her teaching credential from Chapman and a MA in Kinesthiology from Azusa Pacific.
In her Olympic career, she was Team Captain from 1996-2000 and earned a silver medal in Women's Water Polo in 2000. She also competed as Team Captain in the Triathlon in 2008. Other significant athletic achievements include a gold medal in the Triathlon at the 2007 Pan Am Games and competing as a professional Triathlete from 2003-2019. Julie resides in Irvine with her husband and twelve year old twins.
Julie swam as a child. Her coach introduced her to water polo by asking her to fill in for a missing player. She joined boys water polo in high school, as girls wasn't available at that time. Julie was heavily recruited at the collegiate level. Her top choices were UC San Diego and Santa Barbara. The Santa Barbara coach promised to design the team around her, but she opted for San Diego with an established system and a strong, trusted coaching style.
Julie soon qualified for the National Women's Water Polo "B" team. The experience was humbling and inspiring. She often ran the clock or babysat players' children, but she also played. Within a year, she made the "A" team and in 1994, competed in the World Championships. While exciting and fulfilling, it was tough mentally, physically, and financially. She wasn't paid and had to fundraise for the team.
After graduating, Julie faced the choice of continuing water polo or pursuing a career and life with her boyfriend. At that time, women's water polo was not an Olympic event. Australia had the top women's team and campaigned to add it. The opposition argued it shouldn't be included to protect female modesty and because synchronized swimming was an appropriate
alternative. Despite the uncertainty of the Olympics, Julie realized she'd regret abandoning polo and committed to it. A year later, women's polo was an Olympic event.
The US still refused to fund women's polo. Many doubted the team could qualify for the Olympics. The team recruited a men's coach and trained 30 hours a week. Fueled by doubters, and with better coaching, the team qualified for the Olympics.
The team struggled as it found its way. At its first Pan Am games, Julie wanted the team to attend opening ceremonies, as an inspiration. The coach refused, fearing it would be a distraction. Julie was right, the team was flat the next day. To his credit, at future tournaments, the coach let the team decide about opening ceremonies. They typically went and fed off the excitement.
Julie shared fun facts. She said the Olympic Village was a utopian place. Although the press loved to pit athletes against each other, the fiercest competitors got along swimmingly. They respected each other, knowing what it took to be there.
It was exciting to meet people from across the world. Every type of food imaginable was available for free, and it was fascinating to see what people chose to eat. While Julie opted for fruit, vegetables, and protein, others were thrilled with McDonald's Big Macs. In Beijing, the athletes received pins to trade. Julie was often approached by athletes and fans passionate to trade pins with her. The Olympic Village produced newspapers in French and English, the international languages, arguably appropriate for everyone.
It was "show and tell" time. Julie displayed her Olympic credentials. They were like passports with codes indicating where an athlete was allowed. Julie showed us the USA Olympic jacket she wore when she was awarded her silver medal. Each country had similar jackets only to be worn by medal winners. She circulated her Olympic medal with her name engraved on it.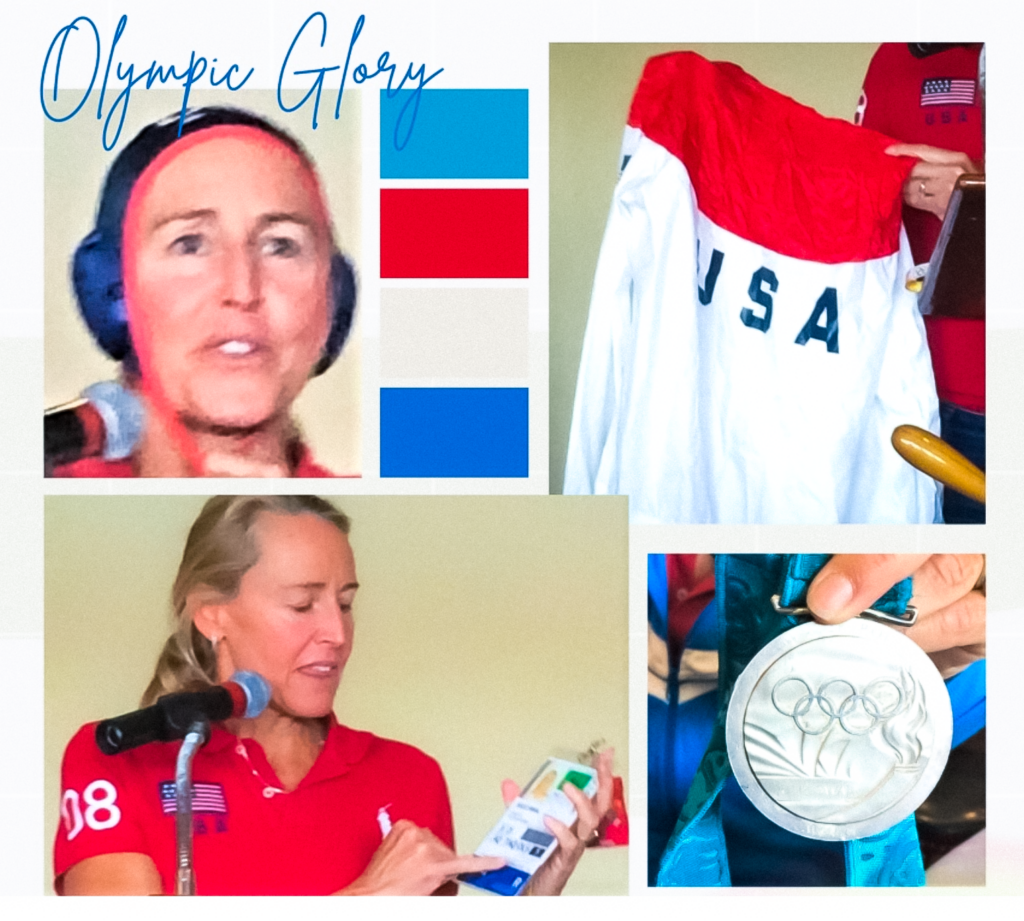 Julie discussed the water polo gear. She put on her cap with thick protection over the ears. Prior to 2000, polo swimsuits were like those worn by competitive swimmers with straps over the shoulders. This allowed players to pull on each other's straps until they ripped. On average, each team member went through five suits. After 2000, the suits zipped in the back up to the neck. Julie said the referees checked athletes' nails before games to ensure they were short and thin enough they couldn't scratch someone.
Julie began discussing her career as a triathlete when our time ended. She has also been an Olympic color commentator for NBC – 2004 (water polo) and 2012, 2016, and 2020 (water polo and triathlon). Perhaps Julie will return to finish her story.
Julie drew the winning raffle tickets. Gina and Marj each won $22.
DATE/SPEAKER/SUBJECT
Mar 3  -  Jeff Yeargain, "The History of California"
Mar 10  -  Tom Gazi, Chief of Los Angeles Port Police,
"How the Busiest Container Port in North America Operates"
Mar 24  -  The Priority Center will be speaking
This week we will be at Bahia Corinthian Yacht Club. Lunch will be served at 12:20 pm. You will be emailed an invitation two days before the meeting. Please notify Richard Swinney by this Wed 2 PM if you are planning on attending.