LIVE MEETING
Ken DuFour opened. Leo Fracalosy read the Exchangite's Prayer and Ken led the pledge.

Richard Swinney stated highlights of the Field of Honor. He needs volunteers on the morning of May 17th to mark flag positions.
PROGRAM
Cynthia Strasmann, Chair of the Accepting the Challenge of Excellence Program (ACE), welcomed everyone. ACE recognizes graduating high school students who persevered and performed exceptionally in spite of obstacles. Each ACE honoree will receive a $3,000 scholarship to further their education. Also, each took home a basket arranged by Cynthia with balloons and candy. Cynthia acknowledged school representatives in attendance: (1) Back Bay: Dr. Kurt Bauermeister, Principal, and Tracy Camarano, Counselor; (2) Corona del Mar (CDM): Jake Haley, Principal, Cesar de la Riva and Gina Nyeholt, Counselors; (3) Costa Mesa: Jaclyn Gonzalez and Suzy Angulo, Counselors; (4) Early College: Jami Gulini, Counselor; (5) Estancia: Mindy Savage and Phillip Streeter, Counselors; and (6) Newport Harbor: Nicole Mack, Counselor.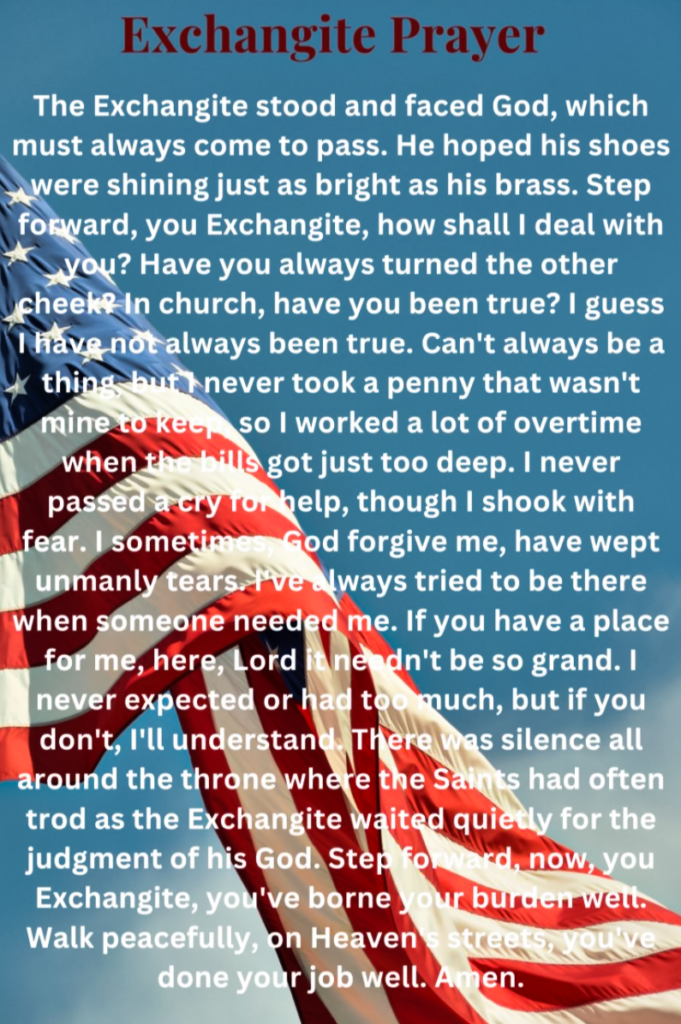 Back Bay High Honorees:
As counselor and Director of Independent Study, Tracy is familiar with the honorees. Alexa Walker: Alexa is a diligent worker and always kept close contact with Tracy, even reaching out from the hospital when she broke her arm. Alexa thanked her school leaders and parents for their support and mentorship. She plans to study Finance.
Michael Aguilar: Tracy worked with Michael on his Senior Project and learned he is a great writer. He is artistic and can draw anything. He timely completes his work with a smile. Michael expressed thanks for those at school who helped him get on his feet and to grow. Gianna Fracchia: Tracy described Gianna as independent, hard working, dependable, and a good communicator. Gianna thanked us for the scholarship and her mother and teachers for their support. She plans to obtain a Doctorate in Criminal Psychology. Brianna Fuentes: Tracy said Brianna flew through her classes, including some at Orange Coast College (OCC). Brianna was thankful for the scholarship and her sister who attended. She plans to become a Social Worker. Angelina Lewis: Angelina is kind and hard working. She expressed thanks for her school's support.
Anthony Lopez: Initially, Tracy had to constantly urge Anthony to complete his work. Eventually, he kicked into high gear and got things done. Anthony plans to attend Saddleback College and to become an Engineer. Jose Romo: Tracy described Jose as the "nicest student ever." Jose thanked everyone in attendance. He will attend OCC.
CDM High Honorees:
Dylan Jatwani: Cesar said Dylan is hard working, proactive, and goal oriented. Dylan will attend Vanderbilt to study Economics. He was grateful for the luncheon and scholarship. He thanked Cesar and Jake for the nomination and his father for supporting him.
Costa Mesa High Honoree:
Kevin Palumbo: Jaclyn said Kevin is very kind and committed and truly deserves this honor. Suzy interacted with him frequently in the Career Center where he told her was thankful and humbled by the ACE award. Kevin thanked his parents for demonstrating outstanding work ethic and dedication to family. He thanked his counselors for their help and providing him a safe space in their office. Kevin will attend Cal Poly to study Electrical Engineering.
Early College High Honoree:
Alize Castellanos: Jami said Alize was the easy choice. Alize is kind and respectful, and despite obstacles is very determined and rises to the top. She has been attending community college and already earned two Associates Degrees. She will attend UCLA to study Nueroscience with a long term goal of becoming a doctor. Alize considers the ACE award an investment in her. She is excited to
be part of the 50% of foster kids to graduate high school and strives to be included in the 4% to graduate college.
Estancia High Honoree:
Allison Alas Chacon: Philip said Allison is one of the most amazing students he has met. She arrived from El Salvador last year and rose above language and social barriers to become a campus leader. Allison thanked her counselors and teachers for their help and guidance. She will attend Vanguard to study Nursing and thereafter plans to become a Nurse Practitioner.
Newport Harbor High Honoree: Esmeralda Alcala Jiminez: Nicole described Esmeralda as kind, respectful, and dedicated. The challenges she has faced have motivated her more. Esmeralda thanked everyone present for the honor. She also thanked her uncle who has been her father figure. She plans to attend UCLA to study Micro Biology and Genetics and to become a doctor.
Cynthia concluded by recognizing the students' grit and determination. She offered advice: (1) be intentional about your goals; (2) listen to your heart when making decisions; (3) welcome mistakes as they allow growth; (3) know your strengths and weaknesses; (4) recognize your value and unique gifts; and (5) pursue your passions.
DATE/SPEAKER/SUBJECT
May 18  - Business Meeting
May 25  - City of Hope
June 1  - Cap Center
June 8  -  Karen Yelsey, Chair of Newport Beach
Police Foundation
This week we will be at the Bahia Corinthian Yacht Club. Lunch will be served at 12:20 pm. You will be emailed an invitation two days before the meeting. Please notify Richard Swinney by this Wed 2 PM if you are planning on attending.