Spindrift December 12, 2019
Ken DuFour started the meeting with a nice invocation, and WW II vet Deane Bottorf, recovering from a recent illness, led us in the salute. Jeff Yeargain announced the new scores for our Membership Drive (Team 3=71, Team 4=57, Team 2= 56, Team 1=49.) These teams WERE chosen at random. He noted that the Board will meet next week to review membership proposals, so bring someone next week (looks like a good talk!) turn in the proposal, and if it gets approved you earn five points, plus four points more if they join the club. Our two guests were introduced and are shown here. We were also delighted to have Al Wach back for the meeting, recovering from back problems. 
ANNOUNCEMENTS – Football Commissioner Mike Gertner announced some prior week winners, and last week he talked Ed Romeo into playing for the first time. See Ed enjoying his first winnings! Bob Wood notes that 3 of the last four "football book" games were won by the club, which owns 30 of the 100 books. The fourth game, Thanksgiving Lions vs. Bears, was won by President-Elect George Lesley. Bill Bechtel noted that his quest for elves was successful, and it's Friday the 20th, 8 AM Woodland school and 11 AM Victoria School. Call Bill for time and place if you want more information on an upcoming boxing demo with weightlifters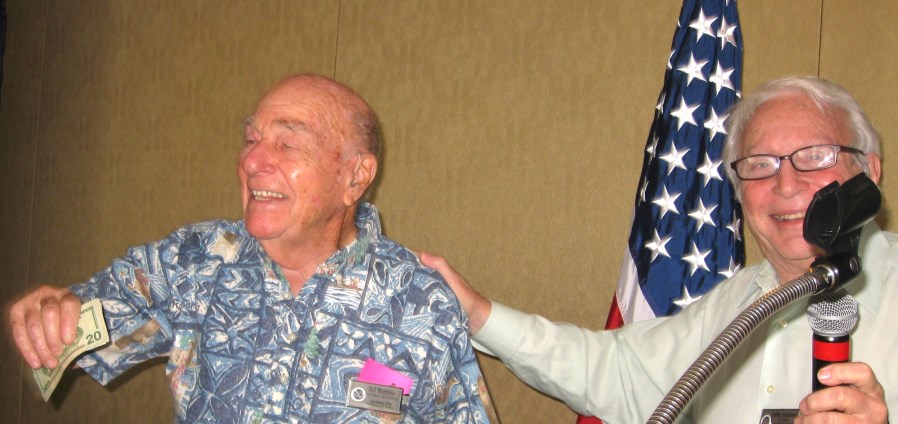 PROGRAM – was introduced by Secretary Richard Swinney, who presented Tracy Theodore, representing the Family Justice Center of Orange County. They are one of 17 agencies under one roof, paid for by the City of Anaheim, 150 Vermont Avenue. Tracy made the point that if you grow up in a family that has violence, it's sort of a "way of life" and seems normal to those in such families. The Center serves survivors or domestic violence, child abuse, elder abuse, and sexual assault and they have an organized process for helping those deal with their specific situations. They not only "provide a safe welcoming environment where victims of domestic violence, child abuse and sexual assault can got or support services" but they also "provide multidisciplinary teams of detectives, victim advocates, prosecuting attorneys and other social service providers who work together to ensure client safety, help clients access needed services and provide support for the investigation and prosecution of criminal cases."
They have 17 partners in the same building, reflecting their mission to co-locate as many resources as possible to effectively and efficiently provide services for survivors of domestic violence, child abuse, sexual assault, and elder/dependent adult abuse. Those co-located in the same building include the justice system, social services, support services, shelter, and legal services.
During the Q and A, it was noted that "Yes, they partner with other agencies." "Yes, they assign one individual to work with a client." "The Foundation Budget is $500K and pays for 55-60 people to help." "Law enforcement is in the same building we're in." "We are the only Family Justice Center in Orange County. There is one in San Diego and one in Long Beach."
Thanks, Tracy and Kristen for bringing this excellent work to our attention. For more info, see website ocfjcfoundation.org.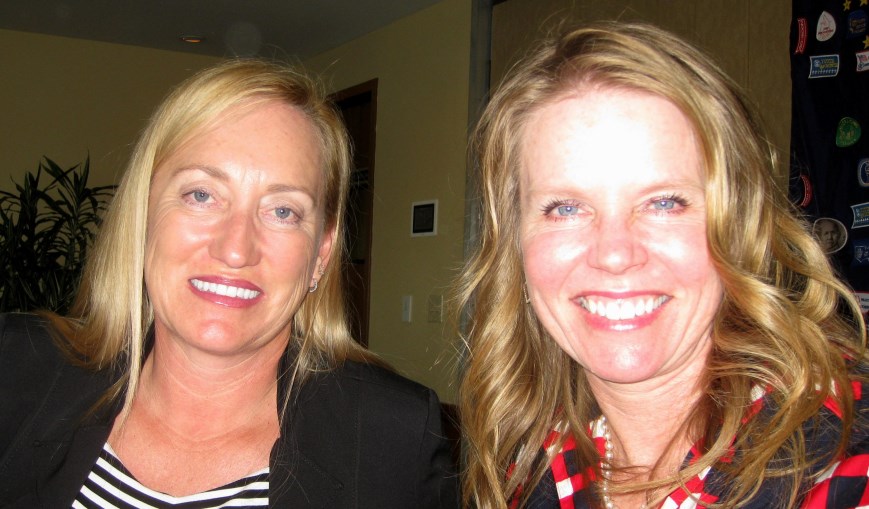 We will not be meeting on the 26th of Dec or the 2nd of January
Deane Bottorf got the ten, and Shirley Lashmett drew the right ticket to get the $20.
GREETER – Is James Vale. Born in Brooklyn, he graduated from the Univ. of Maryland, becoming a CPA and working in executive banking, 5 years with Merrill Lynch, five with UBS and Five with Rotstan and Vale. Sponsored by Roy Shlemon, James has a significant other Donna who will be listed on our Roster when we update it. He deals with so much money that your $2 for the raffle might seem small, but he will help you treasure it as a winner.