Spindrift December 8, 2022
LIVE MEETING
Ken DuFour opened. David Schapiro prayed for health and happiness this holiday season in one of the most difficult years, especially for him. He thanked God for our club, friendships, and the meal. He prayed "shalom" (Hebrew for peace) in Ukraine and to end divisiveness in politics and social media. Al Wach led the pledge.
Richard Swinney distributed a sign-up form for donations to Priority Center's Families Helping Families wherein families in need receive holiday gifts. Mike Gertner announced football pool results. Dave was low man with four correct, a new record low. Mitch Mitchell and Gail Demmer tied for the most correct, with Gail closest to the tie breaker taking first and Mitch second. Marj Davis reported Marj Collins is in hospice and encouraged us to reach out to her soon as her condition is declining. Ken asked for volunteers to help transport items for Back Bay High's rummage sale on Saturday, December 3rd. Cynthia invited us to the installation of a buddy bench at Rea Elementary on Monday, December 5th. PRESENTATION Leo Fracalosy introduced Paul Garcia, President, and Phil Mitchell, Vice President, of the California Society of the Sons of the American Revolution. Leo and Phil are long time friends; Phil was in Leo's wedding. Leo shared a colorful story about a trip he and Phil took to France. Suffice it to say Phil is likely a wanted man in France because he threw a restaurant owner on a wedding party table to defend a girl. See Leo for more details.
The California Society, founded in 1875, was the first organization in California to honor fighters in the American revolution. The Society has educational programs for children and is preparing to celebrate America's up-coming 250th birthday. Paul and Phil encouraged us to join them in supporting Wreaths Across America which places wreaths on the graves of veterans including at Newport Beach's Pacific View Memorial. As Marine Corps veterans, they are huge fans of the Field of Honor. They presented the club a certificate in honor of our efforts in organizing it.
PROGRAM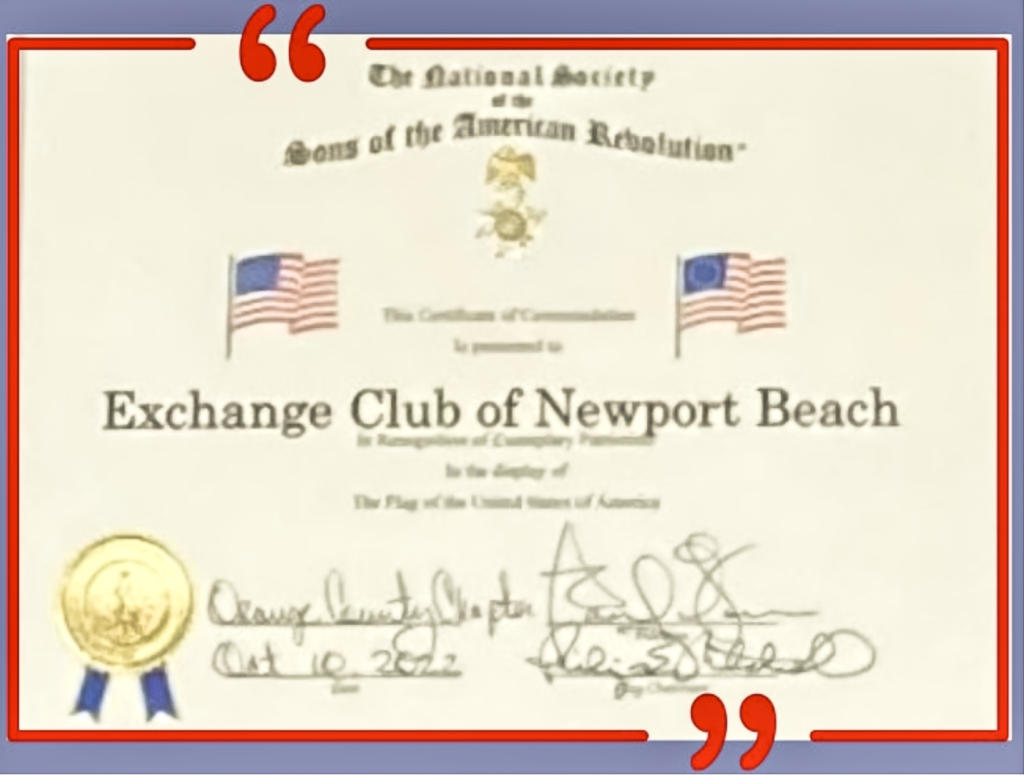 Diane Daruty introduced Kate Malouf, a University of Oregon graduate who has resided in Newport Beach fifteen years. She is active in Newport Beach, currently as Vice Chair of the Park, Beaches and Recreation Commission and the recipient of honors including the Distinguished Citizenship and Future Leader Awards. As a mother of three, Kate is very involved in local schools. She has served on the boards of various PTAs and foundations at schools and in leadership roles at the district.
Kate appeared to speak about another cause close to her heart, the Teen Project (TTP), for which she has volunteered the last six years. Before beginning her talk, Kate thanked us for the Field of Honor and the Youth of the Year Award we granted her oldest daughter, Maddy Malouf, last spring. She played a short Video (click underlined text to view it) about TTP.
Kate described TTP as a parent to the parentless. TTP provides healing and hope to females who age out of foster care or survive human trafficking and homelessness. TTP has one hundred and twenty six beds in eight Southern California homes where it conducts drug treatment, psychotherapy, life skills, higher education, and mentoring programs. Kate is passionate about the work and dedication of TTP's founder and CEO, Lauri Burns. Lauri survived abusive parents, foster care, skid row, and other unthinkable abuses. Incredibly, in her mid twenties, Lauri turned her pain into inspiration to save others like herself. Lauri's work isn't limited to providing homes and programs. As a tech industry professional, she used her skills to design the Safe Site app. Safe Site, supported by Microsoft, allows homeless or others in need or being abused to locate, view, and book a bed on their phone within 24 hours anywhere in the country.
Kate is Co-Chair of TTP's OC Committee which fundraises for and supports TTP's OC homes and their residents. The committee recruits girls in grade seven to twelve along with their mothers to perform its services. Unlike organizations like National Charity League who accept a limited number of girls, TTP's OCC Committee accepts everyone. Not only do members' efforts aid TTP and its beneficiaries, it provides an impactful and moving experience for the mother daughter duos. Kate recalled when she accompanied Maddy to TTP's Lake Forest home to present holiday gifts to the residents. It really hit home with, and greatly troubled, Maddy that the residents didn't have mothers, fathers, or families. Kate corrected Maddy explaining the residents were a family. Kate and Maddy were like extended family celebrating the ladies with gifts and their work for TTP. Maddy's experience with TTP inspired an essay for her college applications.
TTP's OC Committee conducts an annual fashion show fundraiser. The show sells out every year and receives tremendous sponsor-ship support. The 2023 event is scheduled for May 7th at Vea Resort in Newport Beach. The OC Committee teen members along with TTP home residents model clothes provided by local clothing stores. To date, this fundraiser has raised $1,000,000.
Richard inquired whether TTP intervenes before females leave the foster care system. Kate said "yes," although there's a limit on the number of beds and therefore how many they can help. Mitch asked if there is supervision in the homes. Kate replied that in addition to those who conduct the programs each home has a house mother and cook.
Kate picked the winning tickets. Leo and Andy Shortt each won $33.
UPCOMING EVENTS
DATE/SPEAKER/SUBJECT
Dec 8  -  Andy Shortt personal story
Dec 15  -   Business meeting                              
December 8th we will meet at the Newport Yacht Club and December 15th at the Newport Rib Company. You will be emailed an invitation two days before the meeting. Please notify Richard Swinney by Wed 2 PM if you are planning on attending.