Spindrift February 25, 2021
ZOOM
Starting at about 12:15 for the Zoomers and the 17 members in attendance, President George asked reliable Ken DuFour to offer some invocational words, which included a blessing for Paula Kruse, followed by the pledge to our flag brought right to our meeting by reliable Roy Shlemon. George warmed up our minds with Olympics questions. An example might be, "Which was the only Iron Curtain country to participate in the Olympics when none of the others did?" Romania. And St Louis was our first Olympic city.
Field of Honor Chair Richard Swinney reported that six of us showed up for the work detail to get the flags ready for the May Field of Honor, and we'll have up to 1776 flags ready to fly if the City approves the plan. We are confident that we'll be okayed to do at least as much as last year with a few flags around the monument.
Ken DuFour dramatically announced the winners of the Bob Robins Superbowl quiz, with Leo Fracalosy winning last place (no prize this time) wife Carol winning FIRST PLACE with 13 out of 16 answers correct! Even those of us who didn't win enjoyed guessing at the answers. For those ten or so members who also played in the District contest, it was fitting that Dave Robins won two of the four prizes (3rd quarter and final score).
While waiting for the PowerPoint to get put into the convenient monitor, President George shared with everyone the wonderful words in member John Kruse's obituary. We all learned something about member John we didn't know.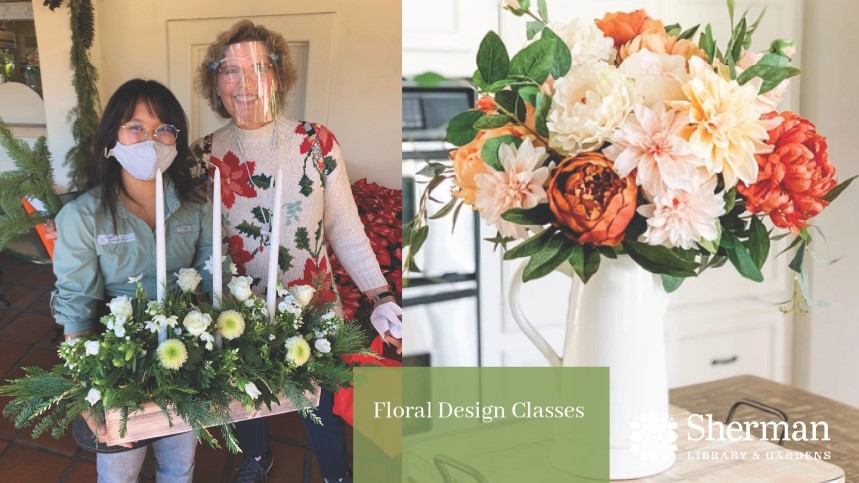 PROGRAM
Arranged by Ken, we were blessed to have Catherine Dickinson speak to us about the new and wonderful things going on at Sherman Library and Gardens. Born in Bristol England, she has been in Newport Beach for five years. With focus on art, history, and education, and a love of gardens, Catherine has been with Sherman L and G and is loving it. Her summary: "It's such a unique place – we have an unbelievable archive telling the history of the Pacific Southwest, a wonderful art collection of California impressionist art, and an amazing, every changing garden with significant collections of palms, camellias, ferns, begonia – a tropical conservatory complete with turtles and koi and a truly unique artistic succulent garden."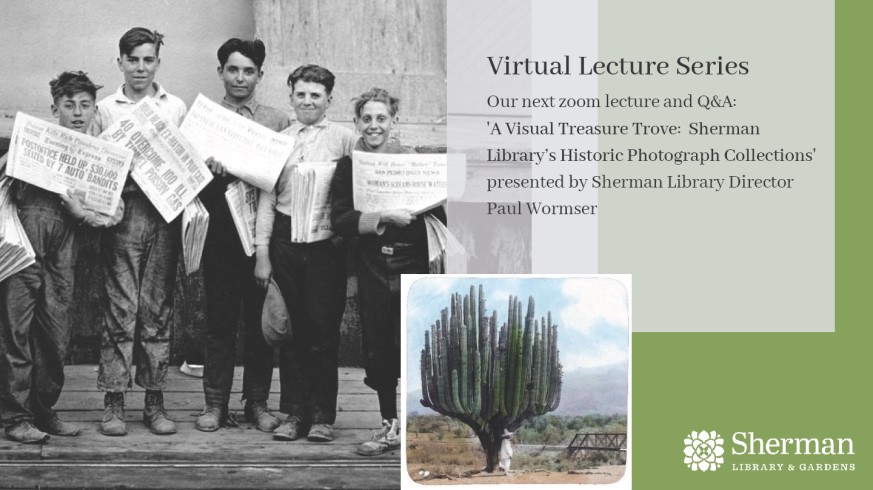 Catherine touched on a large number of attributes of the library and gardens activities, highlighting with great photos, a few of which are shown here. The Schools Program now has a dedicated education team to set up school field trips. "There is nothing like getting out of school and getting into nature." They have a "Garden to Table" program that introduces the idea of edible flowers. Their restaurant, the Café Jardin is superb. The 25th Annual Newport Beach Garden Tour will be hosted by them. They also host several different plant shows featuring clivias, bromeliads, begonias, or chrysanthemums. They are also introducing a flower photography class.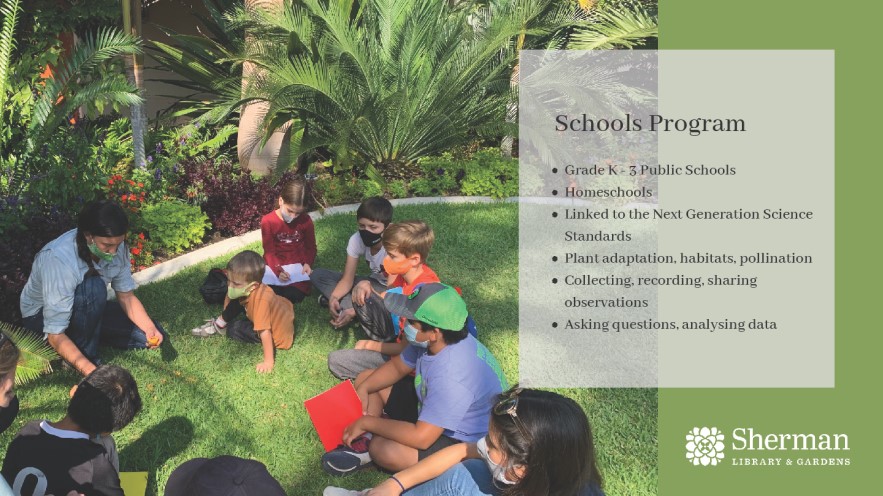 They are moving into the virtual world with "A Virtual Treasure Trove: Sherman Library's Historic Photograph Collections, guided by Library Director Paul Wormser. Buy a ticket for this and for the virtual garden tour on May 8. (www.thesherman.org).
They also have a High School Internship Program—the goal of this program is to show high school students that horticulture and botany are rewarding college majors and career paths. It is a 6-8 week paid internship during the summer break and any high school student entering 11th or 12th grade is eligible. The intern works on an individual project for a specific plant or species of interest to Sherman Gardens.
Thank you, Catherine, for sharing the subtleties of the library and gardens and your evident enthusiasm for what you do.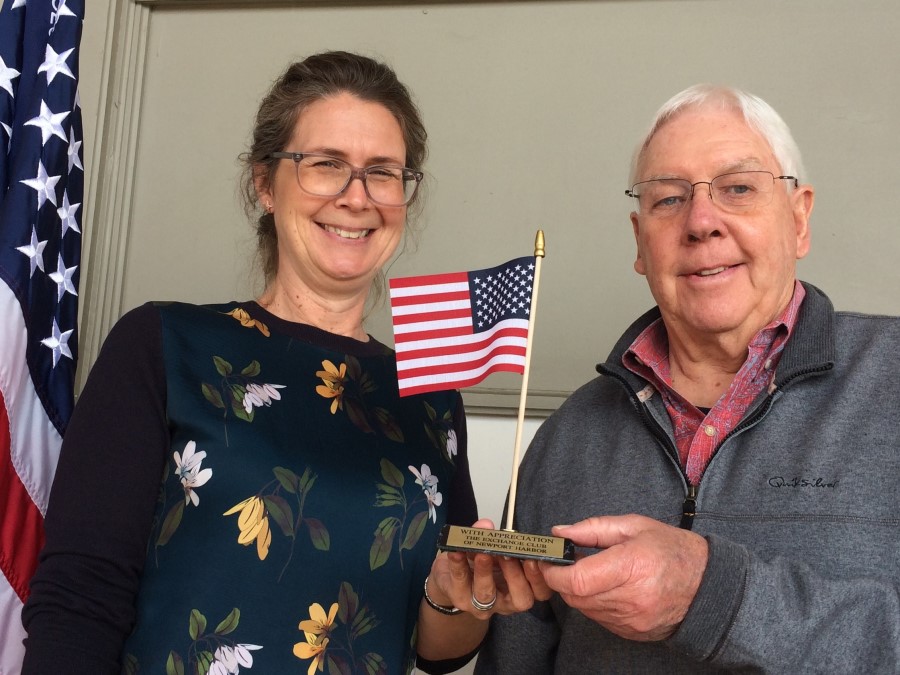 NEXT WEEK Is a business meeting, and it will be special because we will be inducting members who have joined in the last few months. Sometimes the meeting is an exceptional opportunity to listen to the life story of our members in a "three-minute talk." Sometimes it's nearly the whole program. Come and find out!
Bob Wood, Spindrift Editor