Spindrift January 30, 2020
OPENING
The meeting was President Ken DuFour, telling a very funny joke that your editor chooses to not repeat here. However, WWII veteran Deane Bottorf was successful in leading the pledge to our great flag. Mike Gertner brought his Honored Guest Roger Summers for the third time.
ANNOUNCEMENTS
Shirley Lashmett announced we are hosting the First Annual Valentines Day Social on February 14, in Newport Beach. See invitation if you get this by email. Leo Fracalosy properly emphasized that you should run copies of this invitation and share with your friends, too! We are planning on a great social event that we predict will become a classic.
Bill Bechtel, at Football Commissioner Mike Gertner's request, is selling tickets for the now annual Superbowl contest originally devised by distinguished member Bob Robins. This is really a fun contest because you can watch the game and try to observe whether the first field goal was scored by a kicker with a dark jersey, for example.
PROGRAM — We were delighted to have our local Newport Mesa Unified School District distinguished Scott Fitzpatrick speak. Scott is the enthusiast for everything musical at NMUSD, and there's a lot of it! His official title is the teacher of Creative and Performing Arts. We learned that Scott actually had a class taught by our own Deane Bottorf when he was in elementary school.
Our school District is very aggressive in providing musical opportunities. The elementary music program is under the direction of Nick St. Royal, who provides the leadership to train and select which band will play for us at the Field of Honor, as has been the recent custom.
There are music and arts training and performance options at every grade level, and options to learn to play the violin along with 50 other students on a regular basis.
These skills become evident when various performances are offered by these talented youngsters to appreciative audiences.
Scott showed also that there are data that show that student performance in other fields is enhanced by exposure to music. He had charts showing data that indicated a big improvement in the last few years.
During the Q and A, we learned that the teachers love the program, the District provides the books, but that the Foundation, to which we contribute, also gives $1000 grants to individual teachers to support the program.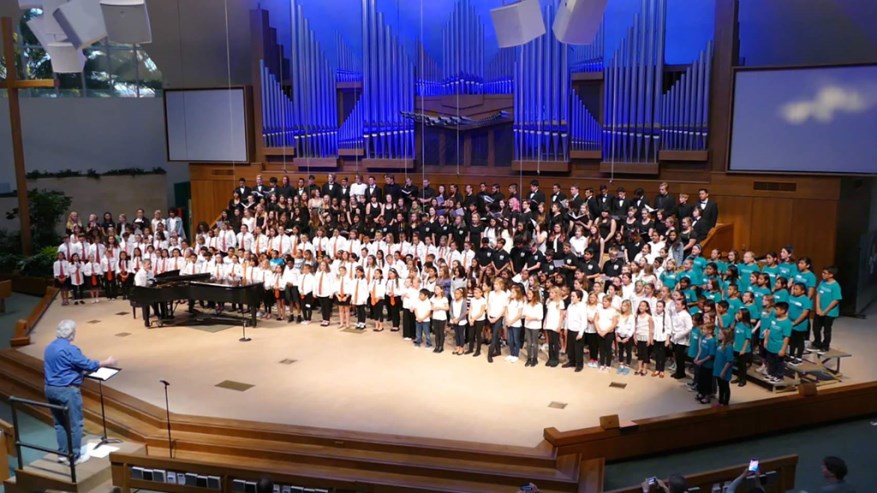 2013-14 1,018 Students  2014-15 1,208 Students
2015-16 1,128 Students  2016-17 1,214 Students
Elementary music ensemble
The 21 elementary schools each have the opportunity for having a choir, a band or an orchestra. The nearby image shows an ensemble of all three kinds of musical arts.
Exchange Club of Newport Beach Field of Honor
• Each year we have a goal of 800 students attending.
• School choirs combine to perform patriotic songs.
• School bands perform patriotic songs
• Art Contest and Essay Contest run by Exchange Club – site presentations
They like the opportunity to participate at the Field of Honor because it promotes the idea of "belonging to the community."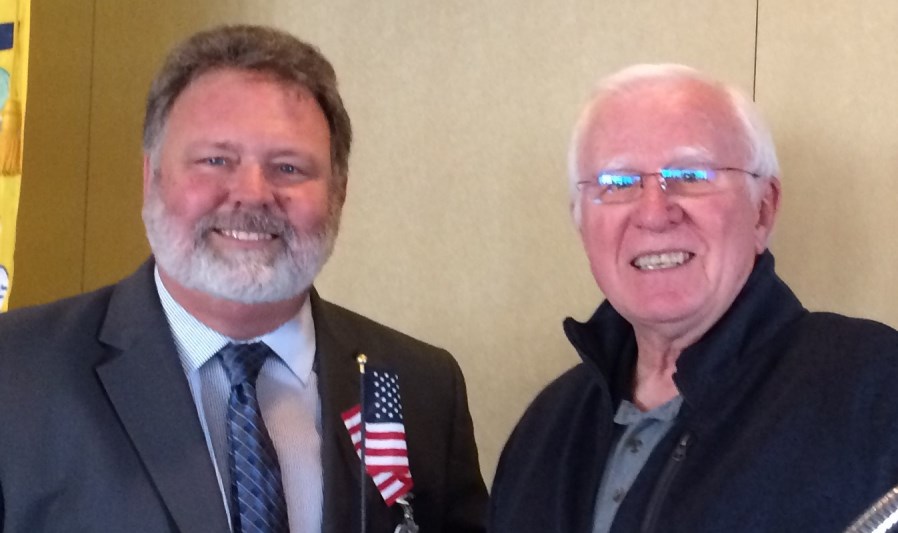 GREETER
Bill Bechtel. Narrowly escaping a childhood in South Philly, at age 7 he came to the OC and soon went to Huntington Beach HS where he played football, drummed in the band and orchestra and became a Harmonaire, which was a mixed vocal octet performing locally. Orange Coast College led to a BS at LA State, and then a Masters at USC! With the Costa Mesa PD, he became a licensed helicopter pilot (a "Helicopper") and that high flying Santa that lands in the playground. Now he wears lots of hats: Club Past President, currently immediate District Past President, and today Bill Bechtel is your greeter. So give up your two bucks and genuflect, he deserves it!