LUNCHEON/ZOOM MEETING
This week's meeting convened last Thursday shortly after high noon at the Bahia Corinthian Yacht Club on the outdoor patio overlooking our beautiful bay. It was our first face-to-face meeting at the club since the beginning of the COVID-19 pandemic, and it was good to be back! Five tables for 4 were set up for Club members, and all seats were taken, with 18 of our guys and our 2 guest speakers participating. For those who were unable to attend, the meeting was also broadcast on ZOOM, which was ably hosted by Steve Pool, and 4 additional members participated in absentia, including Mitch Mitchell, who has been recovering from COVID-19 over the past couple weeks. Sans buffet, lunch was served by the BCYC crew.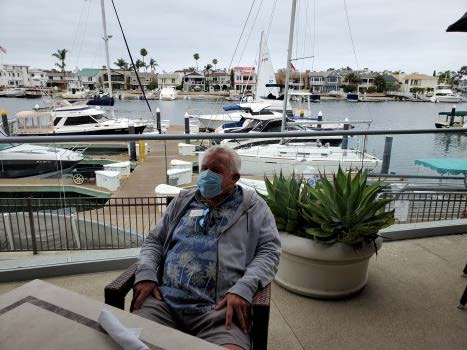 OPENING
Pres. George Lesley called the meeting to order and introduced Dr. Bob Wood, who prayed that our Supreme Being will give us the guidance to overcome the current turmoil in our society and that we be grateful for living in a country that allows us to have the freedom to protest and speak our minds. George led us in the salute to Old Glory and then mentioned that our Pledge of Allegiance was written in 1892 by Francis Bellamy, 400 years after the "discovery" of America by Christopher Columbus.
NEWS AND VIEWS
George discussed the A.C.E. Awards (Achieving the Challenge of Excellence), in which our club has awarded ten $3,000 scholarships annually to graduating high school students who have overcome numerous obstacles, e.g. family dysfunction, physical and sexual abuse, financial issues, etc., and have nevertheless graduated with honors. These scholarships are sent to the administrators of the colleges that the winning students are planning on attending for their benefit. To date, because of the current pandemic, 4 of the 10 scholarships that have been awarded this year are being used by students who have registered….Mitch continues to progress in his recovery from COVID-19. He reports that he still feels a little weak and lethargic, but has so far avoided the more serious symptoms of the virus. Get well soon, Mitch!
PROGRAM
George introduced our guest speakers: Joseph Stapleton, Founder, and President of Spinnaker Investment Group, LLC (SIG), an investment company which offers financial advice to their business and individual clients.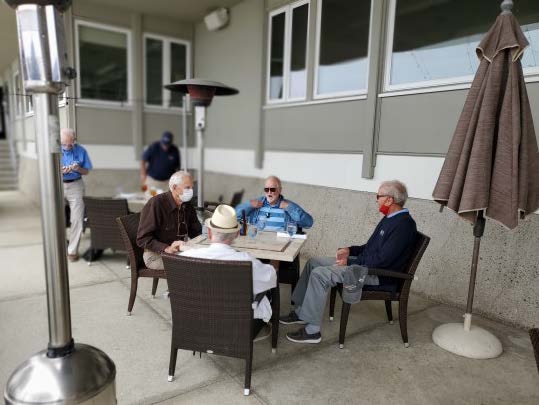 Joe has had extensive involvement with the Newport Beach community, having served on the Board of Directors of the Newport Beach Chamber of Commerce, including having been Chairman of the Board from 2013 through 2015. He is currently a member of the City of Newport Beach Finance Committee and is Chair of the Newport Beach Foundation. Morgan Christen serves as CEO and Chief Investment Officer of SIG; he was the primary speaker and provided a comprehensive quarterly Market Update as of July 2020.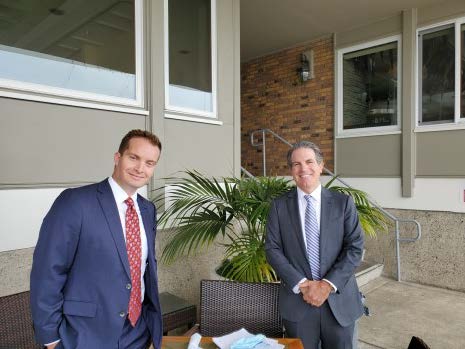 Morgan has the titles of Certified Financial Advisor (CFA) and Certified Financial Planner (CFP) and is known as the "wizard" within the organization. Morgan began by reviewing the market performance of the last quarter and showed that there was a substantial recovery from the losses incurred in the first quarter of 2020. Also, he showed that the market over the 3, 5, and 10- year long term periods continue to farewell. Primarily because of the coronavirus, the market has been extremely volatile, where, during a 16-day period at the end of the 1st quarter, we actually dropped into a bear market. Fixed income investments, e.g. bonds, have been traditionally the safe harbor in a bear market, but are not generating more than 2% at the present rate. Job losses and consequent unemployment claims have risen significantly; shopping and retail, restaurants, hair and nail salons, and fitness centers (41% permanent closures to date!) have been hit the hardest. The airline and travel industry has also taken a big hit, with the majority canceling or postponing trips: airlines, lodging, cruise lines will take a very long time to recover. Sports venues (stadia, school sports programs) are losing important income-generating programs for landlords, secondary schools and colleges respectively. Nonetheless, this is turning out to be a weird recession, as a lot of people seem to be operating as "business as usual": staycations, road trips, RV sales, and rentals, getting together in small groups, etc. There are many opportunities at the present time for market investments, and there is plenty of cash out there because of the stimulus plan and various aid plans to state and local governments. We are in the process of a 4th Industrial Revolution, with foci on Artificial Intelligence; smart computers; biotechnology; energy capture, storage, and transmission; communication advances (e.g., Zoom); robotics; etc. Factors that can weigh heavily on the market are continued lockdowns, COVID-19, trade wars between the U.S. and China, ongoing civil unrest, weather, and global warming concerns, and a much slower than predicted recovery time when some of what we are now experiencing slows down. Interest rates will remain low, which will be good for stocks, but not good for those depending on income from bonds. Current Treasury bond rates are very low. The bottom line in the current market as an investor is to stay diversified, and work with your advisor is you need to. A full and much more comprehensive discussion is presented on the Youtube presentation https://www.youtube.com/watch?v=Zn7zUwNUGA0&t=104s. For more information, you can contact Spinnaker Investment Group at (949) 396-6703. Their website is www.spinninvest.com.
EDITOR'S NOTES – COVID-19
We are constantly bombarded with information (and some misinformation) regarding the transmission, treatment, and prevention of the coronavirus. With this uncertainty, I would Stay The Course: wash hands, use masks, especially indoors, social distancing (including avoiding any kind of crowd, and staying home as much as possible. Be safe and healthy! D.S.