OPENING THE ZOOM
New Board Member Steve Pool graciously hosted the Zoom meeting with normal host Richard Swinney out of town, and early attendees before the "bell" were Pool, Lesley, Stewart, Wood, Mitchell, Bechtel, Kruse, Schapiro, Lashmett and our guest speaker. Nearly a dozen more dropped in as the meeting started. Our NEW PRESIDENT George Lesley opened with a thought-provoking prayer including calls for good work by scientists, initiative by business for the economy, and the protection of our freedoms. Then we Zoomed the flag salute, missing the harmony of hearing each other's voices.
At the end of the meeting, Pres. George announced that, because of his requirement to be in court on the 2nd Thursday of July, it is agreed that we will have the Board meeting on the 13th of July at 10:30 AM. He also announced that negotiations are proceeding with the BCYC and that there are specific plans to meet again with Social Distancing, food to be brought to the tables. The only thing, not firm is the start date, but we're hoping it's July. Treasurer Bob Wood noted that the invoices have been mailed for this quarter and the dues are a bit less.
PROGRAM
We were pleased to have our Program VP, Mitch Mitchell, be able to arrange for our speaker Peter Chang, of the Pacific Marine Mammal Center, located in Laguna Beach. Peter began with an informative video, showing how their center is involved in rescuing thousands of marine mammals from death and starvation from injuries caused by mostly man-made things: nets, starvation from food supplies affected by runoffs such as fertilizer, and even fishing lines.
The goals of the Marine Mammal Center are threefold: the obvious (1) rescue and rehabilitation, (2) the education of conservation policies, and (3) collaborative scientific research. They are in their 50th anniversary, and they have probably rescued 10,000 marine mammals from the ocean areas from Dana Point to as far north as Seal Beach, but most of their activity is off Newport Beach and Laguna Beach. They have good relations with all the cities involved but they have a special one with Newport Beach, where the animal control unit will actually bring to them the animals that need rescue.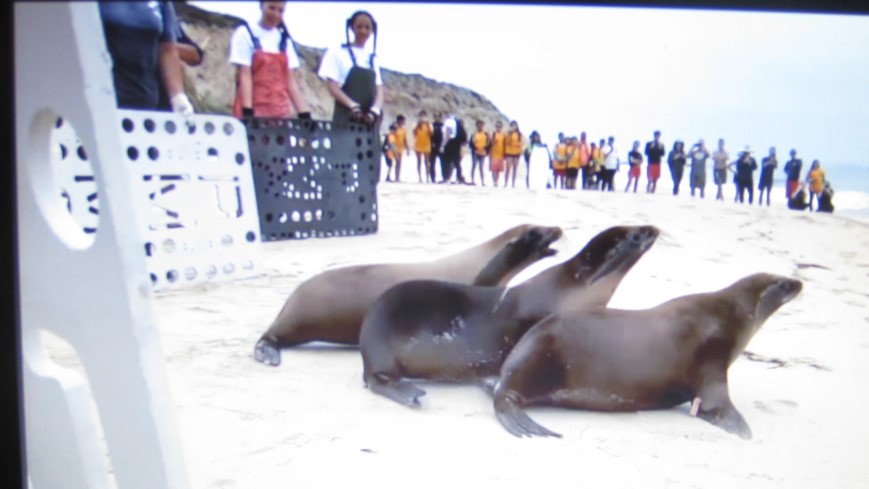 The animal care operations involve the three obvious steps: rescue, rehabilitation, and release. The release often involves a little bit of a ceremony, shown here with three seals on their way to the ocean, with a lot of people cheering them on. The Center is located on Laguna Canyon Road, and they have 50 animals on-site, which they tube-feed four times a day. The 50 animals are 27 California Sea Lions, 16 Northern Elephant Seals, and 7 Pacific Harbor Seals. In 2015, they processed 500 animals. June 15th plus or minus two weeks is the 30 days when they get the majority of the rescues, and lifeguards are typically responsible for about 200 of them.
They involve military veterans' groups such as Wounded Warriors in the rehabilitation process, and over the years up to 10,000 children have visited the center on field trips.
Management. Most of the workers are volunteers who donate typically 10 hours per week and have been with them for between 5 to 15 years. Overall, the budget is around two million dollars, some of which relate to rescue vehicles, with 20 paid staff, mostly part-time. See the photo of the volunteers and staff. COVID has caused a revenue loss of about 35% this year because the Center is closed.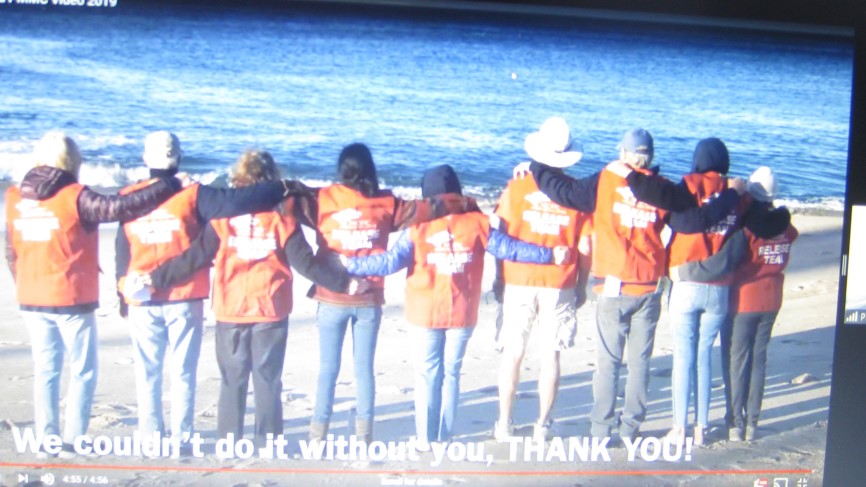 During the Q&A, we learned: that their personnel avoids eye contact so as to minimize bonding; Sea Lions have ear flaps and strong front flippers, whereas Seals have ear holes only and lesser flippers; that they save up to 70% of the animals brought to them; and that yes, there are fishermen and boaters who may not be happy we are saving so many aquatic mammals.
Peter, we are grateful for this highly relevant presentation and will look forward to being able to advertise your reopening for a visit.
RON BARNETT
died after a long struggle to get enough oxygen in his lungs. Ron was sponsored by your editor Bob Wood and loved the club, volunteering to prepare the club's flags and banners for display for each meeting for years, and in his 80's in the early years of the Field of Honor, installed beaucoup flags. As a TWA Flight Engineer, he had a long and fun career, marrying a flight attendant JoAn, who died a couple of years ago. There will be a memorial service in his memory at the Mesa Verde United Methodist Church as soon as it can be arranged, and the date will be announced.
Look at page four of this issue to see who your new directors and officers are. Committee Chairs will depend on volunteers. See the attached PowerPoint from Tracey Edwards, our National CEO, with a presentation presented at the recent District conference when Shirley Lashmett was installed as our new District President. This presentation is not self-explanatory, but it does make you think deeply about some of the qualities that would make you a good "servant leader." It helped me to think about the qualities I would like to have. Look this over, and then let one of our Board Members know that you would like to volunteer and which committee appeals to you, especially if you are not on any committee now. Every member should be on a committee that he likes.
Hoping to see you at the next meeting or sooner, Bob Wood