MEETING
There were 24 in attendance at last Thursday's luncheon in the dining room of the Bahia Corinthian Yacht Club. Notable among the attendees was John Moorlach, who mentioned that he wanted to know more about the history of Theodore Robins Ford, which was the subject of today's presentation. President Ken DuFour opened the meeting and asked President-Elect Shirley Lashmett to give the invocation. Shirley expressed gratitude for our living in a country which allows us to express our thoughts, and asked that we be permitted to continue our freedoms. Mike Call then led us in the flag salute.
George Lesley commented that he passed by the Lido Theater a few days ago and noticed that there were workers who were in the process of renovating the venue. The workers told him that the project should be completed by summer, so there is some hope that our club can be involved with their reopening and that we can reinstitute our First-Run Movie Event.....Dave Schapiro and Ken DuFour announced that the Field of Honor Sponsor Outreach Subcommittee has met, and has requested that any of our ECNH members who belong to local homeowners' associations that publish periodic newsletters to please furnish information to either Ken, George or Dave. The intent will be to try to advertise the FOH in their publications.
SPEAKER
The speaker of the day was Dave Robins, ECNH member and co- owner of Theodore Robins Ford, which recently celebrated its 100th anniversary party at its dealership on February 7th. Dave's grandfather, Theodore, was the founder of the franchise, which he obtained in 1923. Dave showed a video of the history which was shown at the celebration. Theodore got his start in the automotive business with a Model T repair shop in the Balboa Fun Zone area of Newport Beach.
In 1928, he moved the franchise to a parcel in Newport Beach across the street from where the Crab Cooker now stands. In 1965 it moved to its present 10-acre location on Harbor
Blvd. in Costa Mesa.
Mary Robins Philpot, daughter of Theodore I, presented some of her family background on the video, and was also physically present at the celebration. Her brother, Theodore Robert Robins II ("Bob"), became the second-generation owner of the franchise in 1976 when Theodore I passed away.
After the move to Costa Mesa, Theodore I became a recognizable fixture in the local community, and was seen driving his Model T all around town. The vehicle still sits in the dealership showroom. Bob had his father's work ethic, having worked in all aspects of the business, including sweeping
floors and driving parts delivery vehicles at age 14. Bob married his wife, Virginia, in 1957, and they had 3 children: Sarah, Jim, and David. Bob was aphilanthropist and was active with the Newport Beach and Costa Mesa Chambers of Commerce, Newport Harbor High School Alumni, Hoag Hospital, and Segerstrom Center for the Arts, among many others. When Bob Robins passed away in 2016, brothers Jim and Dave, the 3rd family generation, took over the business. Because of the extensive family involvement with the business over the years, passing a generational baton has been relatively seamless. Moreover, there are two more generations of potential owners in the Robins family that are up and coming.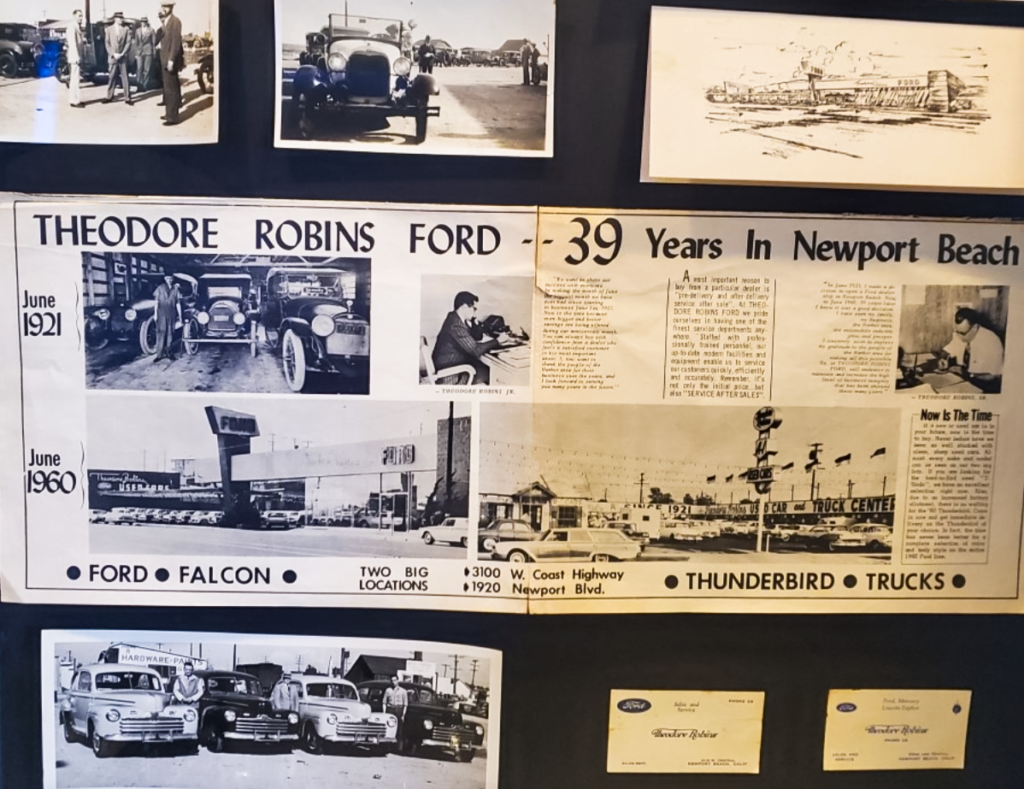 Notably, Jim and Dave set aside $100 per car sold at the dealership over the last year and accumulated $125,000 which was donated back to local community organizations in need. These organizations were formally recognized at the event, and presented with their awards, which ranged from $5,000 to $50,000.
At the present time, because of pandemic and supply chain issues, the cost to purchase both new and used automobiles is up. Ford Motor Company is focusing on production of electric vehicles and is second only to Tesla globally in their manufacture. Although it appears that the future of the auto industry is with electric vehicles, there currently is inade- quate infrastructure, including insufficient generation of electricity to the grid, resulting in rolling blackouts; and the need for more efficient recharging stations.
The most popular Ford vehicle in demand is the Bronco,
followed by any of the electrics. Dave estimates that the franchise has sold approximately 100,000 vehicles over the years, having had to endure a number of hurdles, such as the Great Depression, WWII, the 2008 recession, and the pandemic, during which auto sales were disrupted.
Currently, Dave noted that sales of electric vehicles will require a commitment for the franchise to put in electric recharging sta- tions. Currently, it is probably more expensive to fully charge an electric vehicle than a gas vehicle, but the market is constantly fluctuating.
Tesla has a recharge adapter which fits into other chargers, but vehicles other than Tesla cannot charge their vehicles into a Tesla recharger. There is no plan at the present time other than what Tesla has been doing to strategically construct accessible re- charging stations so that electric vehicles can be recharged quickly and efficiently on longer trips. Much work still needs to be done.
RAFFLE – Ken Dufour and Shirley Lashmett again won the raffle this week.
ED NOTE: Stay dry! Stay healthy! Stay safe!
Mar 2 b  -   Sara Verschueren, Newport Beach P.D.: "Home
Breakins, Home Security"
Mar 9  -  Chris Farwell, Project Hope Alliance
Mar 16  -  Business Meeting
Mar 23  -  Christine Dicky, Bowers Museum Docent
This week's meeting will be held at the Bahia Corinthian Yacht Club. Lunch will be served at 12:15 p.m. You will be emailed an invitation two days before the meeting. Please notify Richard Swinney by this Wednesday at 2 pm if you are planning on attending.