President Ken DuFour began our online meeting with a prayer and Deane Bottorf once again asked us to assume the position, we complied, and then we saluted the flag, with many members holding up flags or symbols. What a cheerful start to our meeting!
Thanks to a concerted effort by our Board of Directors calling club members and encouraging them to get online and socialize, we had about 20 people join the meeting!
ANNOUNCEMENTS FIELD OF HONOR
Needless to say, we have officially canceled the Field of Honor this year, deferring to safety of our community over fundraising.
PRESENTERS MAKE TERRIBLE REPORTERS -
Your reporter today pulled triple duty hosting the meeting on zoom, presenting, and reporting. Two of the three went pretty well! Unfortunately, there wasn't a recording of the meeting made and your reporter has no notes. A couple of the members made announcements on some projects they've been active on. We appreciate your progress and effort!
MAIN PROGRAM
"HELPFUL BREATH for Breathtaking Times" Steve Pool, is a more recent member of the club, having joined only about 16 years ago. Seven years ago, he took up intensive yoga and meditation studies because of it's tremendous helpfulness to body, speech, and mind. Steve was certified to teach yoga in 2016. but is only now starting to become interested in teaching.
Accumulated injuries from intercollegiate volleyball and handball after college caused a very bad back, hips, knees, etc. and it was taking a toll. Steve tried yoga to check on his flexibility after a muscle spasm in his back.
The back had healed sufficiently and he discovered he had better range and flexibility from the yoga. This sparked a passionate interest in learning and practicing more.
Mindfulness practices enabled him to endure hours of rehabilitative yoga at a time. Now his back, knees, and hips are in good shape. The connection of mind and body is most accessible through the breath.
We practiced experiencing our breath by sitting with good posture, placing one hand on our chest, and the other on our belly button to feel the movement as we breathed naturally. We noticed the movement of chest and belly, noting which moved more.
Typically, we tend to breathe rather shallow, causing occasional deep breaths to make up for the need for better respiration. The graphic below shows this along with the volumes of air used in normal quiet breathing and the tremendous capacity we actually have.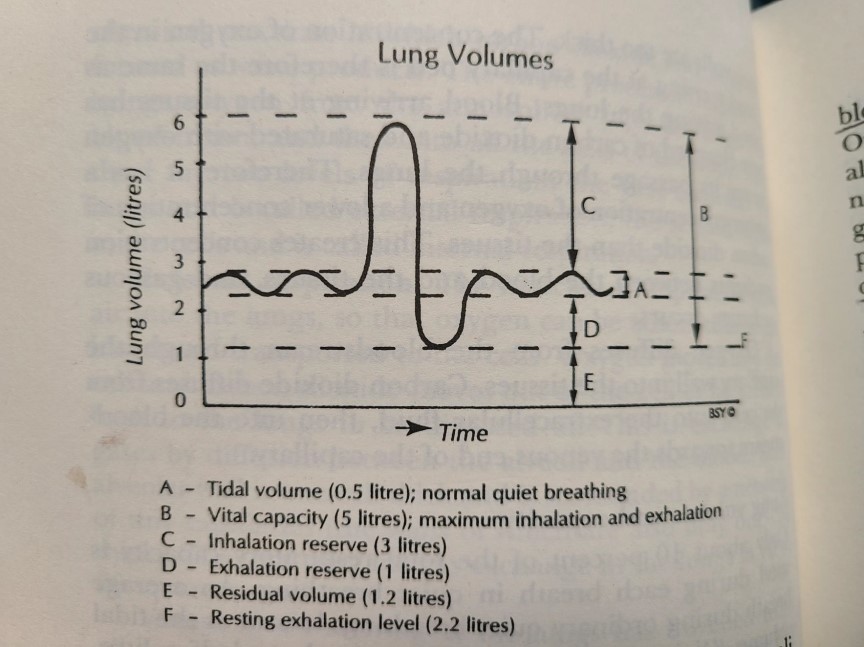 Further, not all parts of the lung are equal. The upper and middle lobes of the lungs are primarily used in normal quiet breathing. The lower lobes have the greatest blood flow and gas exchange capacity. It is very helpful to breathe into the lower lobe of the lungs when short of breath.
Diaphragmatic (Abdominal) breathing brings air into the lower lobes of the lungs and requires less effort than breathing into the chest. Children, with all the activity of youth, tend to breathe into the belly much more than adults. We fall into the habit of breathing just deep enough to keep us going as we get older.
Breathing is a semi-autonomic process; without thought, we breathe, with thought, we can breathe better. Our group practiced this and visualized our diaphragm moving down on the inhale, feeling our belly expand rather than our chest. We found that our breathing was easier, fuller, and slower.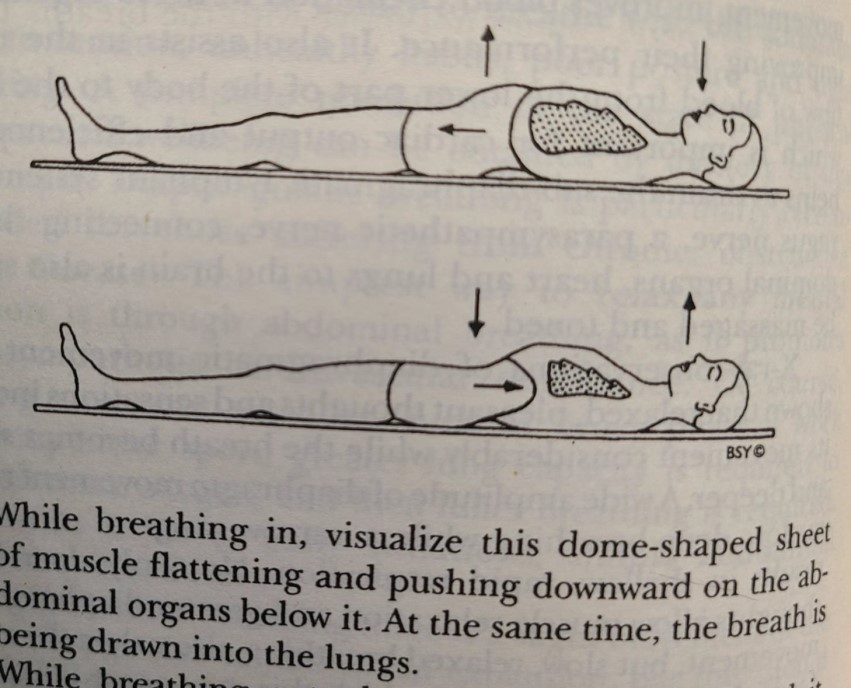 With mindfulness, we can breathe with much greater volume while slowing our breath down. This deeper, mindful breathing increases our capacity up to tenfold! It also opens up alveoli and exposes greater surface area of the lung. Try it you'll like it!
GET TO KNOW: George Lesley was born Friday the 13th, November 1942 in Pomona, CA. When he was 6 they moved to Mt. Baldy, a town of about 250. He later realized how lucky he was to grow up there! When he started 1st grade, the school had a total of 20 students covering 8 grades, one room, and one teacher. When he graduated 8th grade there was a record-setting 10 people in the graduating class!
George graduated from Upland High, then from San Jose State with a BS in Accounting and Finance. SJSU is also the alma mater of Mitch Mitchell. Their fraternity houses were across the street from each other, but they never met. After graduation, he worked for a year as the bookkeeper for two shoe stores near campus. During that year he saved enough money to go to Europe and the Mid East for 9 months. Back from traveling and completely broke, he got a job at Lockheed Aircraft as a cost accountant.
Had he not worked at Lockheed, he probably would not have met his wife Gina. They met on a flight from Ontario to San Francisco. In those days, open seating was the rule, he got lucky spotting the open seat next to Gina! In 1974 they got married in a beautiful park in Santa Ana.. They feel very lucky that their daughter Amy and husband Josh live in San Clemente with two boys and a girl they get to dote on. They love to travel and their favorite trip was to Kenya and Tanzania two years ago. George and Gina will be celebrating their 46th anniversary this year, in only 27 years they catch up to the Naughtons!
George landed a job with a CPA firm in Santa Ana just a couple of years after he started at Lockheed. It was a big pay cut, but he didn't care. He just wanted to be in public accounting. In 1976 he banded with coworkers to become Lesley, Thomas, Schwarz, and Postma, Inc., CPA's. Since 2015, he's practiced public accounting as a sole practitioner centering on forensic accounting—financial issues of divorce cases and business litigation
George joined our club in 1978 thanks to Alan Staniforth, "God rest his rascally British soul." George served as President in '93/94. It was during that time we lost Bill Wittman and for many years after we gave the "Bill Wittman Memorial Award" to outstanding football linemen/academics at Newport Harbor.
George considers himself supremely fortunate to be a member of our club and to serve on the Board with 10 terrific members. "KEEP THE FAITH… and… KEEP EXCHANGE GREAT!"