MEETING
There were 25 in attendance at the Bahia Corinthian last Thursday, including three guests: Jeff Fracalosy, Leo's son; and two guest speakers representing the Bowers Museum, Christine Dickey and Anna Nalle. President Ken DuFour opened with a recollection of his recent trip to Copper Canyon in Mexico south of El Paso, mentioning that he was significantly affected by witnessing the abject poverty of the Tarahumara native people who live there. In that light, Ken then expressed his gratitude to our Lord for allowing us to be born and raised here in the U.S.A., and that we are blessed with the opportunities that we have been given to succeed and flourish. Our Secretary, Richard Swinney, then led us in the Salute to Old Glory.
Richard Swinney announced that there will be a planning meeting for the Field of Honor at 11 am preceding next week's luncheon. Thereafter, FOH planning meetings will be scheduled every week until further notice.
SPEAKER
Richard Swinney introduced our speaker, Christine Dickey, who is one of the Docents at the Bowers Museum (BM). Christine has an impressive resume, having been an automotive designer at Toyota Motor Sales for over 20 years as a Sales Manager as well as being involved in corporate product planning and design for the Toyota, Lexus and Scion brands. She was also the Western Regional Product Manager with the Wall Street Journal, and worked at public radio station KUSC-FM, among other achievements.
Christine has been a volunteer at the Bowers Museum for over 20 years specializing in textiles. She is required, as are all 90 docents, to learn all the new exhibits that are brought in, of which there are 3 or 4 annually, and to give 45-minute tours. The mission of the Museum is "Bringing the World to You".
Bowers Museum was founded in 1936 by Charles and Ada Bowers, who donated the property at its current location to the City of Santa Ana for the purpose of building the museum. They wanted the museum to concentrate on the history of Santa Ana and Orange County, going back to the Native Americans.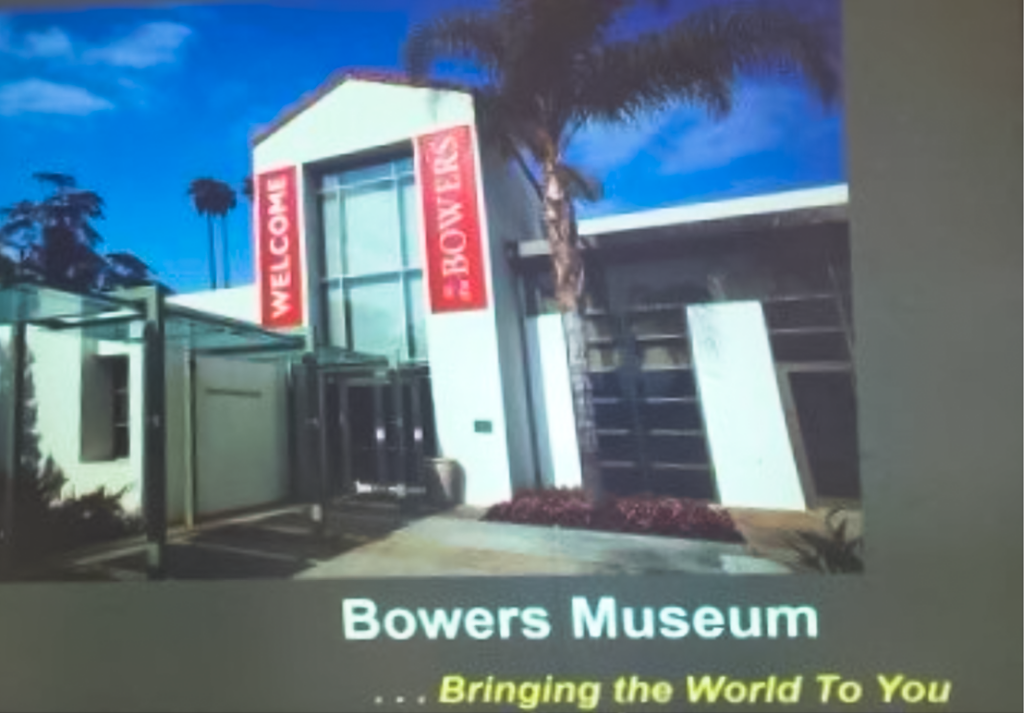 The Bowers were in the mercantile business, and they had professional relationships with prominent Orange County families, among them being the Yorbas, Foresters, and Picos. BM has been voted the Best Museum in Orange County for 15 years in a row. It has nine permanent galleries, which are the following: First California: History of the Native Americans who lived here.....California Legacies: History of the families who con- tributed towards the development of the City of Santa Ana and Orange County.....Spirits and Headhunters: Art of the Pacific Islands.....Ancient Arts of China: A 5,000-year legacy.....California Bounty: A collection of California impressionist paintings.....Sacred Realms: A collection of 9 large paintings telling the story of the Buddhist religion.....Gemstone Carvings: Semiprecious stone carvings of Harold van Pelt.....Ceramics of Western Mexico..... and Miao (China)–Masters of Silver.
The current Special Exhibit is "Guo Pei", a profile of China's premier couture designer, who is internationally famous for using unique textiles in her creations.
Christine presented several other activities that are offered at Bowers. The docents operate a Book Club, and their featured book for April is "First Blush: People's Intuitive Reactions to Famous Art, by Dan Hill". Another program of note is their "Distinguished Lecture Series", which is presenting "Legendary Authors and the Clothes They Wore with Terry Newman". Past programs of this series have included "Archeology of the Biblical Lands presented by Dr. T. Levy", a presentation of the archeological digs in Israel.
When asked to comment on her favorite artifacts at Bowers, Christine mentioned that the overwhelming favorite of the do- cents has been a Navajo weaving of a map detailing wind currents, wind directions, location of islands, and migratory patterns of birds which was used as a teaching tool for the Navajo children.
Anna Nalle, who is the staff Membership Liaison at Bowers, took over the microphone and presented information regarding
Christine Dickey BM membership categories, which range from $25 for an individual student to a $5,000 President's Circle. Most appealing was the Single Membership of $40 and Dual Member- ship of $60. Any category of membership provides one year "free" General Admission, which is $15 per person. Several brochures and flyers were on display, among them being an advertisement of some of their art workshops scheduled for seniors; an art class for children ages 8-16 on how to draw Looney Tunes characters; a list of Free Family Festivals which have been scheduled for this year; and the most recent copy of "Passport", the BM Members' Newsletter publication. For more information about Bowers Museum and their programs, please visit their website at www.bowers.org
DATE/SPEAKER/SUBJECT
Mar 30  -   Spouses/Significant Others Day: The Contro versy of Electric Bikes in N.B.—Brad Sum mers & Lt. Eric Little
Apr 6  -  City Council member Joe Stapleton
This week's meeting will be held at the Bahia Corinthian. Lunch will be served at 12:20 p.m. You will be emailed an invitation two days before the meeting. Please notify Richard Swinney by this Wednesday at 2 pm if you are planning on attending.