Spindrift October 1, 2020
OPENING THE ZOOM
President-Elect George Lesley opened the meeting with a prayer and Shirley Lashmett led us in the flag salute.
ANNOUNCEMENTS
Shirley Lashmett brought us the annual Reverse Raffle from the South Orange County Exchange Club. This year, they have 15 additional prizes! Tix are $100 and support a great cause in a fun way!
PROGRAM
Judy Osuna came to talk with us about the activities at the Alzheimer's Family Center during these COVID times.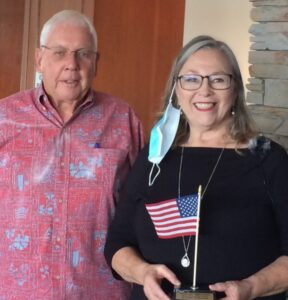 There are over 70 types of dementia but Alzheimer's is most prevalent. Stress as well as vitamin D and B deficiencies can create symptoms similar to Alzheimer's. They recommend getting a baseline memory test done and then annually following up to remove doubt and fear.
With a checkup or baseline test for Alzheimer's people's worry doubt and fear. Their facility offers Free Memory checkups (recommended for anyone over 50) and Caregiver Counseling. These free services are covered by a grant that allows eight one-on-one therapy sessions for caregivers.
Sixty percent of caregivers become sicker with their patient and often pass away shortly after the death of their loved one.
Studies have found that meditation, socialization, and yoga are all helpful in reducing the effects of Alzheimer's. How do with do that with COVID though? Well, check out the Zoom Activities Program!
ZOOM ACTIVITIES PROGRAM costs $50 per month for a family. Their programs are designed to;
 increase socialization
 decrease isolation and loneliness
 work with cognition and communication skills
 improve mood, focus, and concentration.
Some of the approaches from this program were shared with the club.
While a lot of people are settling into their chairs and couches, watching the news from their favorite source, Judy suggests taking in news from many different sources and those that aren't just in the USA. BBC World News is a good example.
Getting up off the chair or couch is very important. Even if you can't get up though, Judy showed us some opposite hand and leg exercises that can be done seated and have a good effect on the brain and our cardio system. Any movement helps!
VIRTUAL CONCIERGE SERVICE In addition to the free services and the ZAP program, the Alzheimer's Family Center also has a Virtual Concierge Service that fills the gap of having to suspend their on-site services. In this program, one gets:
 Unlimited access to brain-engaging activity programs on Zoom. Classes, arts, crafts, music, trivia, meditation, conversation, and more! Monday through Friday.
 Monthly phone calls from nurses to discuss health concerns, symptoms, or nursing needs.
 Monthly phone calls from social workers to provide support, resources, and behavioral health referrals.
 Weekly "friendly phone calls" for chats with friends.
 Priority placement when AFC offers on-site services again.
In this program, tablets are available to be used by either the patient or caregiver so that both can be on the program together.
Judy shared with us a simple breathing exercise that helps calm and reduce stress:
 Breath in through the nose for 4 counts
 Hold for 8 counts
 Breath out of the mouth for 4 counts
People who experimented with this at the club commented that just doing it a few times they found it rejuvenating and revitalizing.
Judy also told us an anecdotal outcome of a man who ate properly for a month improved his health age by 7.5 years.
Q&A
Dementia is a broad word like "cancer". There are 70 types of dementia and Alzheimer's is the most prevalent type of dementia.
The services and costs of service at the facility when they're available (likely March 2021) are available on a sliding scale: Private Pay is $104/day (7:30 am to 5:30 pm, 6 days a week), Veterans Pay whatever they choose, and Medicare.
Alzheimer's Family Center gets its funding from Hoag, Family Foundations, Non-profits, and Grants.
Thanks for the great talk, Judy Osuna!
Please consider joining us to socialize and engage our brains with one another! Here, Carol Fracalosy, Ed Romeo, and Mike Gertner all enjoyed themselves and asked good questions!